Ways to Enjoy
Living in Bethesda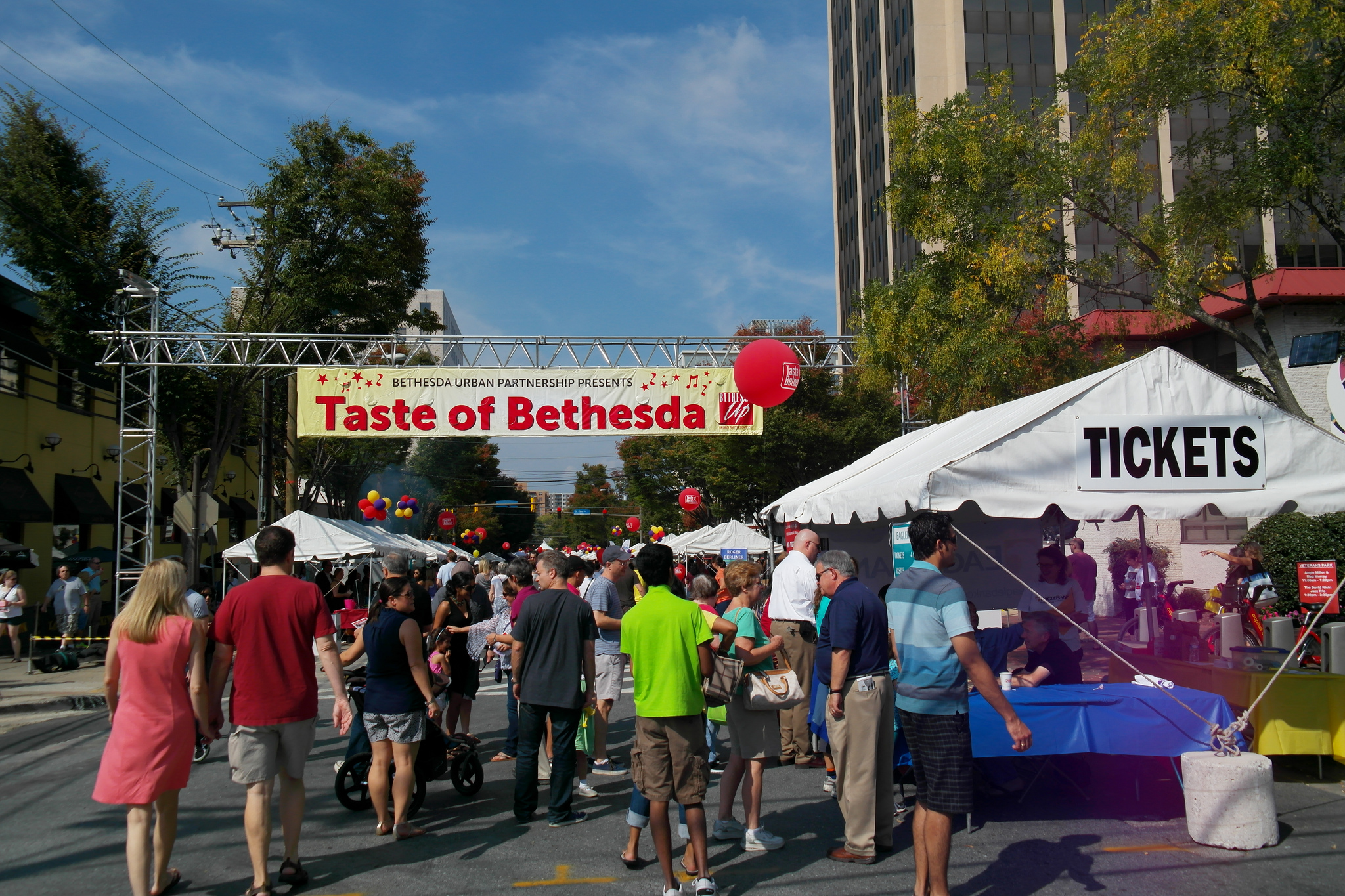 Five Reasons You Should be at the Taste of Bethesda 2015
September 24, 2015
Do you love food? Live music? Having fun in Bethesda?
Of course you do. That's why you need to be at the Taste of Bethesda Event this year! It's all happening Saturday, October 3rd from 11 a.m. – 4 p.m. in Bethesda's Woodmont Triangle (includes Norfolk, St. Elmo, Cordell, Del Ray, and Auburn Avenues). When you're there, come by our tent to say hello and enter to win a great prize! We look forward to meeting you there. 
Need more convincing? Here are five reasons why you shouldn't miss this year's fun-filled event. 
1. It's free to attend…
You can't beat free! Admission to the Taste of Bethesda is free, if you just want to wander around and soak up the sights and sounds. If you want to eat, you can purchase taste tickets on-site in bundles of four tickets for $5 (food servings cost one to four tickets.) If you're the kind of person who can't ever decide what to order for takeout on a given night, this event was designed for you. Pick and choose from the best restaurants in Bethesda (see #3).
2. …and close to home.
Parking will be tough, so we recommend taking public transportation or traveling by bike or foot. While other unlucky people who don't live in Bethesda have to drive, all you have to do is  hop on a 13-minute bus ride or walk 20 minutes to Woodmont Triangle. You probably won't even have enough time to count your blessings on that short commute, so do it when you get back to your brand new apartment in downtown Bethesda. (Side note: there are plenty. This could take a while.)
3. There are 50+ restaurants participating.
Yum. We're already salivating. Explore over 50 Bethesda restaurants serving up delectable dishes from 11 a.m. – 4 p.m. (Note: food ticket sales end at 3:30 p.m.). We picked some of the best options, and what you can expect to enjoy.
Enjoy: gluten-free meatballs (turkey or beef), gelato pops, and grilled chicken salad
Try: paella, authentic Mexican Coke, and gazpacho
Eat: California rolls, Baltimore rolls, spicy tuna rolls, avo and cucumber rolls, chicken tempura skewers, bulgogi and chicken rice bowls, edamame, pork and veggie dumplings, and shrimp shumai
Sample: murg makani, palak paneer, samosa, rice
Savor: al pastor tacos, vegetable tacos, churros, and tres leches
Relish: salted caramel and pumpkin spice cupcakes, red velvet and lava fudge cupcakes, vanilla birthday and peanut butter fudge cupcakes
You won't be able to hit them all up in one day, but that's OK. If you live at Flats at Bethesda, you can go to a different nearby restaurant almost every weekend. 
4. Oh, and great live music and entertainment.
The soundtrack to the culinary experience just really takes it to the next level. If you follow some local bands, you might want to see the stage schedule.
Otherwise, feel free to wander from food experience to food experience while enjoying the sounds of the 19th Street Band, Adrian Duke, and stop to watch the Teelin Irish Dance company dance their mesmerizing routines. It really doesn't seem like it could get better, could it? But it does.
5. You can make new friends (and bring your furry bff).
This is one of those fantastic opportunities to bring your friends or make new ones in a casual environment. Dogs are allowed, so bring your leashed Fido, and just make sure he doesn't pick up any harmful food scraps along the way. If you're interested in going, but you're new to Bethesda, there are often Meetup groups of people who go together. Search the site for groups as the date approaches.
And you thought festival season was over. Thank goodness we live in Bethesda, where culture, entertainment, and fun doesn't stop for a single season. Interested in making the move to the best neighborhood in Maryland? Get in touch with us today, and schedule a tour of Flats at Bethesda. We look forward to meeting you in person!
 Image source: Flickr via S Pakhrin